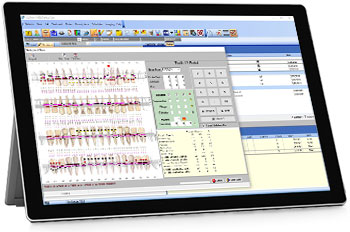 XLDent for Periodontal Practices
XLDent Perio lets you easily record pocket depths, gingival margins, CAL levels, MGJ measurements, mobility, furcation grades and more. The specialized perio chart includes automatic calculation formulas that expedite the charting process and exams can be customized for any entry order. Utilize voice activated charting or complete with a keyboard, tablet or touch.
All-Inclusive Solutions for Periodontal Practices
Features & Benefits
Intuitive design and organization
Referral tracking and customizable communications
Compare exams to track and manage treatment progress
Customizable forms for periodontal therapy and consents
Interactive sorting, filtering, and grouping of practice data
Easily connect and manage multiple locations
Unique solutions to seamlessly join multiple specialties
Cloud and server-based options to suit your needs
XLDent's "All-inclusive" suite features
Our software suite creates a worry-free mobile and tablet friendly workflow, providing your team the tools they need to make your practice most profitable. Learn about our products and eSolutions below.